Lovely Composer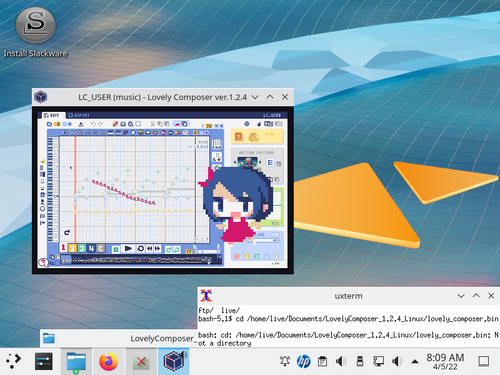 In the Linux beta version, we have confirmed that some distributions, may not be able to start. So we improved it by the following shared libraries have been added.
If you have not been able to start it so far, please download a new version and try it!
Supported OS
We have confirmed that the following operating systems work. (with the latest updates applied)
Ubuntu 20.04
Fedora 34
Slackware 15.0
debian 11.3
Following os have checked some problems in the virtual environment, but may work on the actual device.
Mint Linux 20.3 @ VirtualBox
Fedora 35 @ VirtualBox
We confirmed that the following operating systems did not boot
The Linux version is compiled on Ubuntu 20.04 for now. Basically, it seems to need a newer version than this to work.
Linux kernel 5.13.0
GCC 9.3.0
GLIBC 2.31
Sounds
We cannot guarantee that the sound will play comfortably without delay, etc., as it depends on the hardware environment, but even if it does not sound correctly, the problem may be resolved by the settings.
Try using a configuration tool to increase the value of the audio buffer, for example.
Files
LovelyComposer_1.2.4_Linux
43 MB
Apr 05, 2022