Lovely Composer
1.2.4 released - Linux supported!
---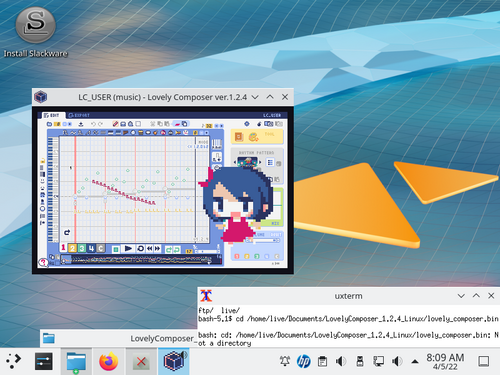 Lovely Composer now supported some of Linux, but the Mac and Raspberry Pi versions are beta versions and are not guaranteed to work.

Version 1.2.4 is mainly a modification for multi-platform support, with no major functional changes.
Also the default value of audio buffer size has been changed from 2048 to 1024, which will reduces audio playback delay on many PCs, and smoothes the playback position bar and output waveform display. But may cause audio playback instability such as skips and petit noises on a small percentage of PCs. If you are having problems with audio playback, please change the audio buffer size to 2048 from the configuration tool.
Supported Linux
We have confirmed that the following operating systems work. (x86_64, with the latest updates applied)
Ubuntu 20.04
Fedora 34
Slackware 15.0
debian 11.3
Following os have checked some problems in the virtual environment, but may work on the actual device.
Mint Linux 20.3 @ VirtualBox
Fedora 35 @ VirtualBox
We confirmed that the following operating systems did not boot
The Linux version is compiled on Ubuntu 20.04 for now. Basically, it seems to need a newer version than this to work.
Linux kernel 5.13.0
GCC 9.3.0
GLIBC 2.31
Sounds
We cannot guarantee that the sound will play comfortably without delay, etc., as it depends on the hardware environment, but even if it does not sound correctly, the problem may be resolved by the settings.
Try using a configuration tool to increase the value of the audio buffer, for example.
Files
LovelyComposer_1.2.4_Windows
95 MB
Apr 11, 2022
LovelyComposer_1.2.4_Linux
43 MB
Apr 05, 2022
LovelyComposer_1.2.4_Mac_Beta
32 MB
Apr 07, 2022
LovelyComposer_1.2.4_RaspberryPi_32bit_Beta
30 MB
Mar 16, 2022