Dungeon Witches
A downloadable Dungeon Witches for Windows, macOS, and Linux
"Dungeon Witches" is a tiny 8bit Rogue-lite RPG of the cute girls with magic of the "Home" !

「ダンジョンウィッチーズ」は、家を召喚する魔法に目覚めた少女の、小さくてかわいいローグ "ライト" な8bitダンジョン探索RPGです!
Language: English and Japanese (英語と日本語表示に対応)
Support OS: Windows / Mac / Linux / Rasberry Pi (Apps & HTML5)
Dev Tool: pico-8 (pico8)
Story
Elle and Erity are twins who love being at home. But last night suddenly, Erity went to the dangerous dungeon alone!
The Dungeon was made by the Wizard of Legend, and now bad witches live in...
Elle can't leave her home because of fear. But the next day, Elle awakens the magic of "Home"! And Elle chased after Erity to save her, with the help of the home!
System
You can learn the magic of Summon Home, Rest in Home, Push home, Kick Home, Warp to Home, and so on!
You use your "Home's magic" to defeat the cute witches and familiars in the magical dungeon, to help your sister.

Feature
A simple and speedy turn-based battle. In addition, the magic of the home can be used to create unique tactics.
The play time of the main part will be about 1.5-2 hours. You can enjoy one story and dungeon in a short time. (There is Bonus map with the same area size as the main story.)
This game was made by under the limitation of the 8bit-like console that called Pico-8. (Using 1 Pico-8 cartridge capacity for graphics, sounds and maps. Except text data and bonus map.)
Clearing will give you more play options, but from the beginning you'll be free to choose your start point of play and sound test.
From the development version, we have improved system, translation, and other elements. And we have added true endings, and bonus maps!
Introduction article
*Japanese media
| | |
| --- | --- |
| Updated | 7 minutes ago |
| Status | Released |
| Platforms | Windows, macOS, Linux |
| Rating | |
| Author | 1oogames |
| Genre | Role Playing |
| Made with | PICO-8 |
| Tags | 8-Bit, Dungeon Crawler, Female Protagonist, kawaii, monstergirl, PICO-8, Pixel Art, Roguelite, Singleplayer, witch |
| Average session | About a half-hour |
| Languages | English, Japanese |
| Inputs | Keyboard, Gamepad (any), Joystick, Touchscreen, Smartphone |
Purchase
In order to download this Dungeon Witches you must purchase it at or above the minimum price of $4.99 USD. You will get access to the following files:
Dungeon_Witches_ver101.zip
7 MB
Dungeon_Witches_ver100.zip
7 MB
Comments
Log in with itch.io to leave a comment.
Game won't run, says it "Refused to connect"
I don't know the error, but I thought it perhaps any network problem between itch.io and you, so I uploaded this game to my web server, may you try to access below URL.
This game's HTML is about 2MB data size, so the loading time may be a bit long.
Game runs if I click the Link, itch.io has been having issues with HTML 5 and flash playing
Wow! This is a super complex and cute game! How many hours have you been programming it?
Thank you for your comment!
But I didn't count the time... I can say that the below things.
I bought pico-8 on 2019/1/25, and soon start making this game.
Development was suspended for about 5 months
The activities after March 2019 are roughly as shown in the image.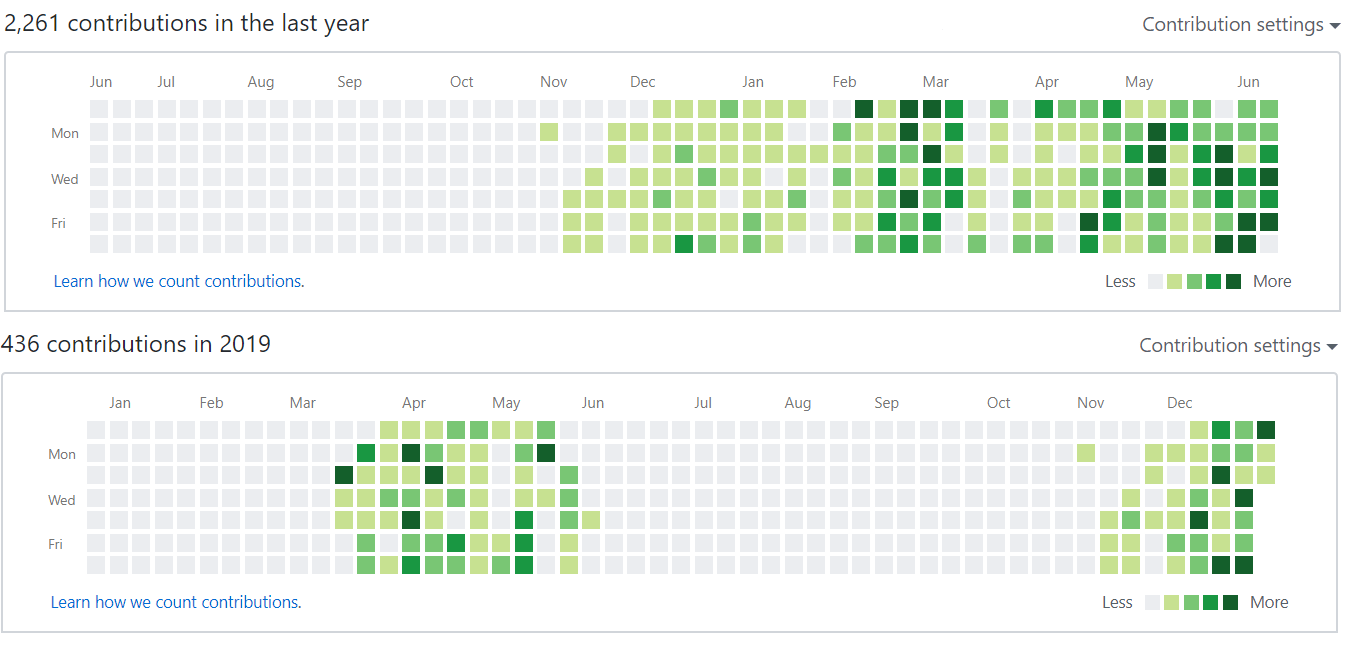 I did first try to make a small game as much as possible. But it's became bigger and bigger. haha...
It shows! I got to a part where the enemy was super strong (more than 50% hit) and lost motivation. The game is a little overwhelming for my personal taste so I don't think I will play it again, but you are very talented! Congrats!
I'm glad to read to your comment!
I started making this game over a year ago. It was born from the feeling of a person who loves staying at home even in normal times.
I understood from several comment that my game is difficult. Because of strength of enemy, way of control are difficult to understand. I has an idea to improve to this problem and I will try.
And translation problem annoy my head. This is the limit of my current English ability (in spite of Google Translation is already used, and I have one collaborator's advice), so I have to get someone's help or more good translation tool, more study English ...? I think that I want to anyway improvement.
Thanks!
This game is really cool! I'm so glad I found it. I was drawn to it mainly because of the artwork. All the characters look super adorable and the environments are really breathtaking. You say the game isn't finished, but it's really fully featured, with cutscenes and boss fights and even a save feature! Using a magic, portable house as a shield to recover your energy is a fun idea. Was this inspired by the coronavirus outbreak?

Seriously though, I have no idea how to make the PICO-8 do even half the things you managed here. Really impressive.

It's not without its faults however. Whilst I'm very thankful that you tried to include an option to play the game in English, the translation is very lacklustre. There are numerous grammatical errors, and a lot of dialogue gets mixed up to the point where I got a little confused over what is being said. This prevented me from understanding the controls properly, but I eventually figured it out.
It's also a little too difficult. Enemies hit really hard; they're impossible to predict and I over-relied on the house to the point I soft-locked the game on account of not knowing how to repair it.
But when I'd gotten used to the controls and figured out what I was supposed to do, I was blown away! It feels really good to move around the grid and smack into things; watching hordes of enemies have their attacks foiled as I sat indoors soaking in a nice warm bath was a kind of satisfaction I'm not sure I've felt in a game before.
Please keep working on it! I've included a machine translation of my comment into Japanese, if that helps at all.
このゲームは本当にクールです!見つけて良かったです。すべてのキャラクターは超愛らしいように見え、環境は本当に息をのむほどです。ゲームはまだ完成していないとおっしゃっていますが、カットシーンやボス戦、さらにはセーブ機能など、本当に十分に機能しています!魔法のような持ち運び可能な家を盾にしてエネルギーを回復するのは楽しいアイデアです。これはコロナウイルスの流行に触発されたのですか?
でも真剣に、ここで管理していることの半分をPICO-8に実行させる方法がわかりません。本当に印象的です。
ただし、欠点がないわけではありません。あなたがゲームを英語でプレイするオプションを含めようとしたことを私は非常に感謝していますが、翻訳は非常に不十分です。文法上の誤りが多数あり、会話の内容が混同されて、私が言っていることについて少し混乱しました。これは私がコントロールを正しく理解するのを妨げましたが、私は最終的にそれを理解しました。
それも少し難しいです。敵は本当に激しく攻撃しました。それらを予測することは不可能であり、私は家を過度に頼りにして、修理方法がわからないためにゲームをソフトロックしました。
しかし、私がコントロールに慣れ、自分のやるべきことを理解したとき、私はびっくりしました!グリッドの周りを移動して物事をこするのは本当に良い気分です。素敵な温かいお風呂に浸かって屋内で座っているときに敵の大群が攻撃を阻止しているのを見るのは、私が以前にゲームで感じたことを確信していないような、一種の満足感でした。
続けてください!私のコメントの日本語への機械翻訳が含まれています。